4 Inclusive Ways to Celebrate the Holidays
At RISE Services Inc., we absolutely love this time of year. It's special in so many ways–from the holiday work parties to the intimate family celebrations. Make sure it's special for those in your family with developmental disabilities, too. These valuable tips can be utilized for any holiday occasion like Thanksgiving, Christmas, Hanukkah, and Kwanzaa. Whether you're inviting friends, close family, or extended family members, consider these four inclusive ways to celebrate the season together.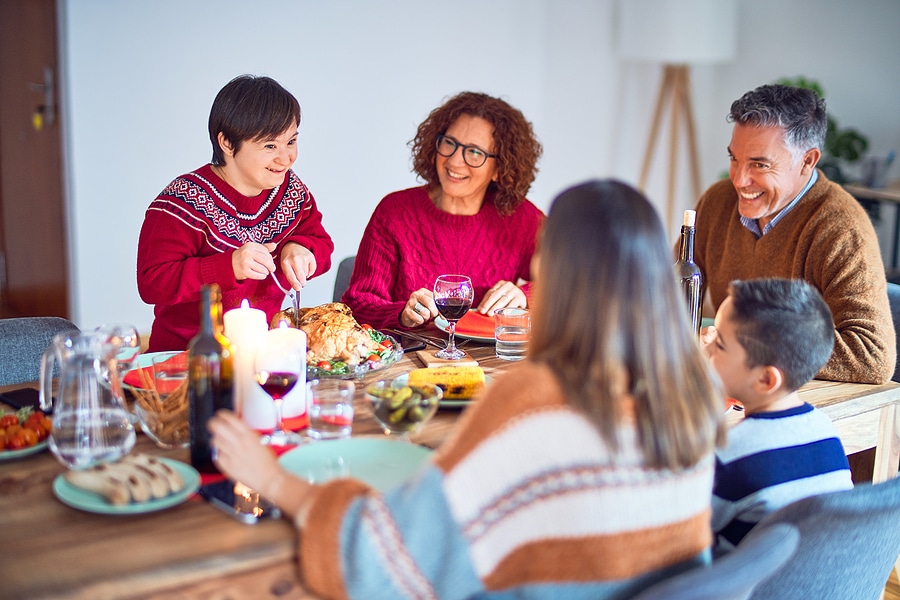 1. Discuss Individual Needs Before the Celebration
This is a thoughtful approach for anyone who is hosting a holiday celebration, but specifically helpful for those with any type of disability. There may be an extended family member with a developmental disability who has social anxiety and needs a quiet place to escape to if the house gets too noisy. Perhaps your niece or nephew has been diagnosed with a sensory issue and requires a calm or relaxing atmosphere during your family get-together. Whatever the disability may be, asking guests how you can make them feel at ease or informing guests of any guidelines while in your home will take care of any possible problems that may arise. 
2. Ask About Any Dietary Restrictions
At Thanksgiving, we all love our turkey with mashed potatoes and gravy, and at Hannukah, who doesn't love a latke with sour cream or applesauce? While you may thoroughly enjoy the traditional foods eaten during holiday festivities, some of your guests may not be able to dine on these amazingly delicious meals. Be sure to discuss any special dietary restrictions or aversions with guests who have developmental or physical disabilities. They'll be very glad you considered their needs during the upcoming family party.
3. Prepare for Any Mobility Issues
Individuals with developmental or physical disabilities often need assistance from mobility devices, like wheelchairs, walkers, or orthotics. As we all have experienced, holiday celebrations at home can become crowded with people, gifts, and more. If you know that a family member or friend will be arriving with a mobility device, take some time to make the proper preparations. Clear a wide path to and from the main areas of the home. Set aside a special seat at the table or in the family room where they can get up and around easily. It is possible to enjoy being together in a small area while also making extra room for those who need it.
4. Communicate Appropriately
Be sure you communicate appropriately with the guests you have around your holiday table or your Christmas tree. For those living with a developmental disability, simply explaining the plan for the day or telling them ahead of time before each activity begins, can help them remain calm in the midst of all the changes. It's also a good idea to avoid heavy-handed conversations like politics, money, or taboo topics. Keep it light-hearted and fun, and all of your guests will have pleasant memories of spending the holidays at your home.
Have a Fun & Safe Holiday Together
Make the holidays special for anyone who enters your home with these considerate and thoughtful tips. If you have a family member who would benefit from our developmental disability services, contact us today. You can also visit our locations page to learn more about our services for both adults and children.

Source: "Tips for Hosting a Special Needs Guest at Thanksgiving." Blog article. BraunAbility. Web. 10 Nov. 2022.